Allie Crandell Too Skinny?
We have all seen the images of overly skinny models and their alleged crash diets and use of cocaine to handle industry demands. Allie Crandell, who hails from Sacramento, California, began her career as a model, doing work for Revolve Clothing and Diesel. She was also featured in music videos for Shane Ward and Duran Duran.
Crandell's real rise to fame came with her casting on The City, a spinoff of the earlier MTV hit series The Hills. Unlike its predecessor, The City started off rather unsuccessfully. Fortunately, Crandell has her modeling career to fall back on.
Crandell was recently shown modeling a dress on RevolveClothing.com. The less than provocative dress is not the issue for critics. Crandell's skinny appearance is. Her legs and midsection appear strikingly thin and you can easily see her ribcage through the black dress. During her time on The City, Crandell had been criticized by PR magnate Kelly Cutrone for her weight.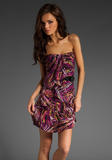 Crandell's agent told Life & Style magazine that even he thought that the model was too skinny, but reported that she was working on reaching and staying at a healthier weight. Revolve stated that she will no longer appear in any new product ads until the issue is addressed and added:
Hi everyone,Thank you for your concern. We are absolutely aware of the feedback and responses to our model's weight and it has concerned us as well. We are working closely with both the model and her agent to get her to a healthier size. She won't be appearing in any of our new product batches or in any of our fashion editorial photos moving forward until the issue is adequately addressed. We appreciate and respect input from our customers and visitors and hope that you find our responses satisfying. We have been attempting to respect the privacy of the model in question while dealing with the issue on our end. We hope you understand. Sincerely,The REVOLVE Team
Category: Fashion News