Kim Kardashian Glamour Magazine Guy Issue
When Kim Kardashian was interviewed five years ago, she said that when she turned 30 she would probably have kids and be married, but so far the star is single and without any kids to speak of.
She has been labeled a "sex symbol" by many, admitting that she thinks that the unofficial title she has is powerful but does not believe that she is as sexy as most people make her out to be. Kardashian admits that she is insecure about a lot of things, taking a lot of time to get ready because of the inability to choose one specific outfit.
She has stated in numerous interviews that learning to accept her body has definitely been a process and one that she is still going through on a daily basis.
Kardashian says that people should like what they see when they look in the mirror, and part of that is just conditioning yourself to be happy with the person you are right now.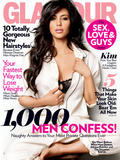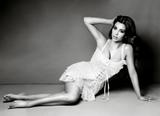 The star has also said that when it comes to pleasing her parents and being a good daughter, she has always been a "straight arrow", going by the book when it comes to her family.
Here are few chosen excerpts from the interview:
On dating:
"It's easier to just be single and not have a relationship. How do you get to know someone on a reality show? Some people think that they can handle it, and then they really can't."
On being a sex symbol:
"It's definitely powerful. I don't find myself as sexy as everyone thinks. I'm a lot more insecure than people would assume, but with little stupid things. When I get dressed, I'm always so indecisive."
On being in Playboy:
"It was an independence thing for me. I was always by the book, such the straight arrow when it came to pleasing my parents and being a good daughter. I felt like this was one decision that only I could make. And I think it looks great. I'll have those pictures forever."
Category: Magazines