Michelle Obama Princess Letizia Marivent Palace Spain Meeting
Michelle Obama Princess Letizia Marivent Palace Spain Meeting – First Lady Michelle Obama finally met with Princess Letzia, with her daughter Sasha in tow. She had lunch with the King and Queen of Spain on Sunday at the royal family's holiday retreat on the resort island of Mallorca in the Mediterranean. Some had wondered why she had not met with them at an earlier time, and blog sites joked that she had been avoiding it. Mrs. Obama and her daughter arrived just before 1 PM, and were greeted at the door by King Juan Carlos, Queen Sofia and Princess Letizia.
Michelle wore an unflattering white bowed blouse, full rose-colored skirt and ill looking shiny flats.
Letizia in the other hand went with a one-shouldered white dress with an embellished neckline and taupe heeled sandals.
The King is known as a yachtsman, and has spent decades taking vacations in august on his boat. Lunch was an Andalusian style mean with gazpacho soup, chargrilled turbot, veal escalopes with mustard, and Oriental rice with sautéed mushrooms. The dish was filled with vegetables and drizzled with a sauce. They then had sliced fruit with ice cream, which was accompanied by wines from the northern regions of Rueda and Rioja.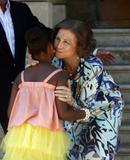 The lunched marked the beginning of a private Spain visit for the First Lady. She has spent the last week touring the southern half of the country, but is now looking to see the other exotic locations that are available to her.
The king gave her some seeds for the White house garden as a parting gift, and they stayed for some time after the meal was finished. After lunch the first lady's party was due to fly back to the United States on air force one.
Category: People