V Magazine Sexy Body Issue Covers
V Magazine Sexy Body Issue Covers – A number of sexy models including Adriana Lima, Lily Donaldson, Eniko Mihalik, Isabeli Fontana, and Natasha Poly will be receiving their own cover shot for the upcoming V Magazine's "Sexy Body Issue." Adriana Lima can be seen reclining erotically with an alphabet letter in her hand. Her version of the cover will be released in Spain.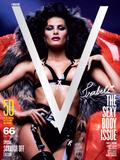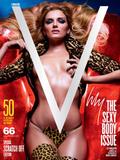 British model Lily Donaldson will be wearing a leopard skin jacket, along with a heart shaped thong in her cover shot. Her version of the cover will be released in Britain only.
Fontana can be seen wearing revealing leather underwear. Her issue will be released in Brazil. Russian model Natasha Poly is almost completely nude, other than a hose that is wrapped around her body.
The new covers are certainly some of the most risqué covers that the magazine has released in recent years. All of the photos are very gorgeous, and all of the models look great. It will be interesting to see which of the covers perform better when the issue is released.
The giant "V" on the covers will all be scratch off, except for Adriana Lima's. Scratching off the V will reveal body parts that were previously hidden. It is an effective marketing gimmick that will definitely boost sales for this issue of the magazine. The strategically placed "V" will make this issue a "must-buy" for magazine collectors and fashion enthusiasts.
Category: Magazines