Victoria Beckham Collection Curvy Turn
Victoria Beckham Collection Curvy Turn – Former Spice Girl Victoria Beckham has become an entity in the fashion industry, and she was given the opportunity to premiere her new line on the popular women's talk show "The View" this morning. The collection looked great, and the clothes are meant to show off your womanly curves, even though Beckham herself is a slim size 0.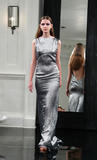 She showed off the clothes that will be included in her Autumn Winter 2010 collection in the US. The hosts of "The View" seemed to like everything that they were shown, and the clothes were vibrant but classy at the same time. Beckham said that she wanted to celebrate the womanly curves that so many women try to hide on a daily basis.
Most of the clothes had very strong colors, but remained in the spirit of the fall season. Beckham said that even though she is not that curvy herself, it bothers her to see women try to cover up their curves in order to look more slim. She even went as far as to say that she wishes she was curvier herself.
Beckham also touched on a number of other subjects, including the fashion sense of the first lady, Michele Obama. Beckham said that she would love to dress like Michele Obama, who is known for wearing very classy dresses that are still relevant in the fashion scene, or maybe she just wanted to see if she could get Obama to wear some clothes from her new autumn line.
Category: Brands